A complex environment and constantly changing conditions require modern, agile approaches for modern project and product management – a proven method for this is SCRUM. Coverdale has extensive experience in training skills, providing tools and teaching practical approaches to agile leadership and collaboration. Our trainers are also certified for agile process models, for example for "SCRUM". We use our knowledge successfully in various customer projects. If required, we can also act as interim managers in agile or hybrid projects within your organization.
In any case, it is important for us to provide you with the tailor-made form of implementation. We help your teams to be agile – not by Scrum, but with Scrum as one of several possible methods.
What is Scrum?
SCRUM is a method for agile project and product management developed by Ken Schwaber and Jeff Sutherland. Originally developed from software development, it is now successfully applied in numerous other areas of collaboration and development. The rules of SCRUM are simple and consist of three roles, five artifacts and three events, but implementation requires some experience.
SCRUM rolls
The product owner is responsible for the economic success of a product and the work of the development team. He represents the interests of the user or customer. The (interdisciplinary) development team is independently responsible for the implementation. The Scrum Master acts as a manager, helps the team to solve problems, creates the framework conditions and ensures that the Scrum principles are communicated and adhered to.
SCRUM artifacts
The Product Backlog contains a preliminary list, which can be found in the product requirements. The tasks to be completed in the sprint are recorded in the sprint backlog. The sprint increment describes the finished work package at the end of a sprint.
SCRUM Events
Central in SCRUM is the so-called sprint, a time window of maximum one month with always the same duration in which a defined partial result is delivered. Sprint Planning clarifies what is to be implemented during a sprint. In the Daily Scrum (max. 15 minutes), problems are discussed daily by the development team and work steps are synchronized. In the Sprint Review, the Product Owner checks whether the goals defined in the Product Backlog have been achieved. The Sprint Retrospective provides a general explanation of how work can be improved and what can be optimized for the next Sprint. The Product Backlog Refinement clarifies how the Procuct Backlog can be improved.
Certified SCRUM Master® by Coverdale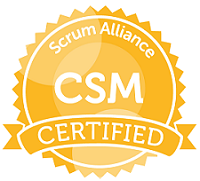 Do you have questions about agile leadership and cooperation, SCRUM or are you looking for an interim SCRUM manager? Contact our office manager Mrs. Margit Darnhofer (office@coverdale.at) or directly our experienced, SCRUM-certified trainer team!