We see agility as people's attitude when they work together successfully in very uncertain circumstances with highly complex tasks.
Together with you, we shed light on how to question one's mindset and develop oneself further to succeed in agile contexts. An agile mindset results from a development process and cannot be prescribed by introducing methods. 
We offer training to people who want to become more agile and build the necessary skills. 
Effective use of virtual meetings
Decision-making successful
Leadership and Transformation
Organisational development 
Leadership Awareness Training
Conducting appraisal dialogues
Facilitation of Conflicts
Gol-orientierted Leadership
Self- and Time Management
Working together in virtual teams
Working together in agile teams
Choose THE Proper FORMAT FOR YOUR LEARNING purpose
the Coverdale Learning Method
In Coverdale pieces of training, participants learn consciously and goal-oriented from experience. The tasks that participants work on are either directly tailored to the respective company or have a practical structure and must lead to accurate, verifiable results with limited resources. 
In contrast to everyday work, we take extensive time to reflect in training. We check the results against the set goals and evaluate the procedure with a process review.
In the theory sequences of the training, the consultants build on the participants' experiences. They give suggestions, offer new methods, provide explanatory models and encourage participants to try new approaches and behaviours.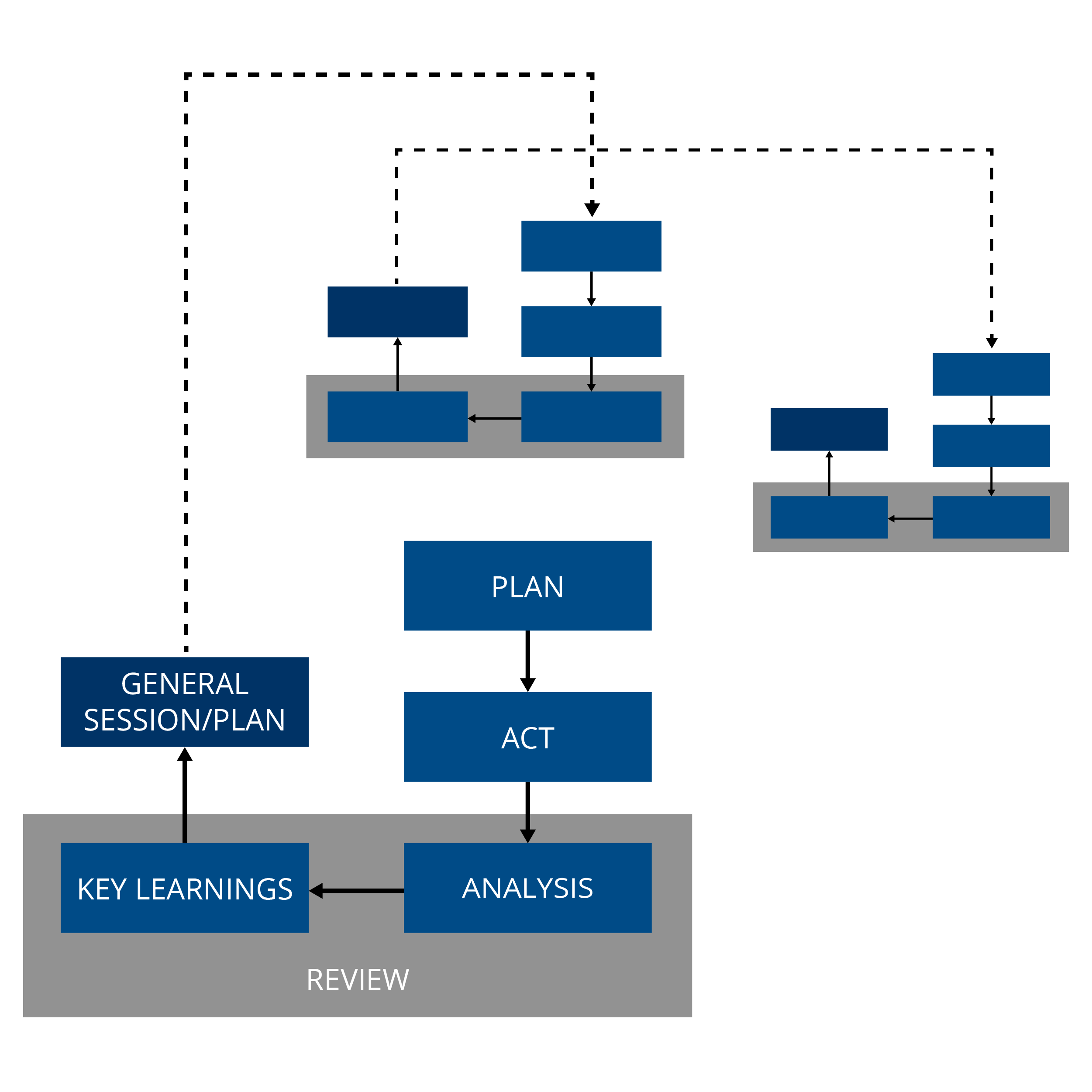 Agility is an attitude, not a method or tool.
The starting point for an organisation to become more agile is to develop an agile mindset. For leaders who want to be successful in increasingly agile contexts, it is necessary to abandon routines and create new ones. Our brain can critically rethink and change ingrained thought patterns – throughout our lives.
In this training, you will explore your values and beliefs and learn what it takes to succeed in complex contexts and develop an agile mindset. Agility does not start with implementing a method but by rethinking your beliefs and changing your mindset.
POSSIBLE CONTENTS
Agile values
Agile principles
Working methodically with an agile attitude
Self-reflection
In agile teams, the leadership role for leadership tasks within the team is distributed to the individual team members or taken over by line managers at the organisational level.
In this training, we look at agile collaboration situations from a leadership perspective and identify all the requirements for the individual leadership roles needed in agile collaboration settings.
Leadership tasks for agile teams include: 
From whom does the team get the assignment?
With whom do they need to negotiate open questions?
Who creates the framework conditions so that the team can work undisturbed?
Who clarifies conflicts?
How do personnel development and performance management happen?
How are decisions made?
Who takes care of the process and the constant optimisation of the process?
POSSIBLE CONTENT
Leadership means providing a framework
Servant leadership as a basic attitude
Leadership as a task and how distributed leadership can become effective
The classic collaboration structures that worked well just a few years ago constantly reach their limits. Value-creating processes run bumpier because people try to respond to increased complexity with linear thinking models and control instead of dealing with more handy organisational forms and agility.
As a manager, you do not have to master all agile methods perfectly. However, you should know the methods' basics and impact on creating the best framework for teams to work successfully in complex situations.
In this training, you will learn the basics of agility. The aim is to find out: What does being agile mean? Which ways of working can also work in classically structured organisations? Which small changes (work hacks) could you use in everyday life without changing the entire organisation? How can you speed up cooperation and bring decisions closer to the real specialists? Which agile methods are also suitable for use outside of classic IT development, and how do these methods work?
POSSIBLE CONTENTS
Basics of agility
Method-free agile working
Basics of:

SCRUM
KANBAN
Design Thinking
Design Thinking is a work approach that should lead to problem-solving and developing new ideas that are convincing from the user's perspective.
You will learn the basics of Design Thinking step by step. You will experience how a Design Thinking micro-process works and which essential tools are helpful to come up with creative ideas.
We use the Coverdale experiential learning method and work with participants' practical projects. We also show how the individual iterations come together to form the big picture of the Design Thinking macro process.
POSSIBLE CONTENTS
The double diamond
The micro process
The macro process
Working with persona
Creativity techniques along the design thinking micro-process
Kanban is a process control method that goes back to the production control processes at Toyota. Recently, the technique has been increasingly used in the agile context to visualise agile methods.
With the training, we aim for managers in organisations who want to get to grips with New Work methods. You will learn what Kanban is and why this method is so powerful to speed up processes in organisations without overburdening your team or your company.
It is essential to start at the individual level but to use the method primarily for visualising cross-departmental activities so that the technique can unfold its full effect. You will also experience how to increase efficiency by limiting the Work In Progress (W.I.P.), how the "pull system" works and who sets the priorities within the Kanban method.
POSSIBLE CONTENTS
Methodical basics

Kanban in production
Kanban in IT and related areas
Using WIP to increase efficiency
Setting priorities
Pull system
In psychology, resilience describes people's resistance to crises, trauma or significant stress.
In this training, participants look at their own lives. We search for traces of which patterns each person has developed and how these influence everyday life.
In the second step, we work on strategies to sharpen our perception, actively fill up our own energy resources and develop more resilience for crises through personal development.
POSSIBLE CONTENT
The seven pillars of resilience
Strategic self-management
Getting to know your own drivers
Biography work
Inner mindfulness
The agile method "SCRUM" originally comes from IT development and is a project management method for complex requirements where the result cannot be defined in detail at the beginning of the project. With the help of sprints, complete tasks are processed quickly and effectively in short cycles. This allows the project team to react flexibly to changes and, together with the customer, to specify the requirements for the final result further. Meanwhile, the method is also used for other complex developments without an IT background.
In this training, we work on practice projects in the form of sprints that correspond to the methodological requirements of SCRUM to get to know the method. You will also learn which roles, rituals and routines exist in SCRUM to implement the agile principles actively and let the team continuously improve.
POSSIBLE CONTENT
Basics of the method
The roles in the SCRUM process
The SCRUM process
Working with sprints using learning projects
COLLABORATION IN AGILE TEAMS
Cooperation in agile teams is based on continuous communication, short feedback loops and trust in the competencies of colleagues. Teamwork should focus on finding solutions. One focus of the agile way of working is to learn permanently. Visualising ideas saves a lot of time. Working with reviews and feedback is, therefore, essential.
In this training, participants learn the difference between linear and agile working methods. We work with agile principles on various tasks and learn the essential elements of agile cooperation method-free. We work on the following topics:
Agreeing on aims.

Working with the plan-check-do-review cycle.

Drawing feedback loops and using visualisation tools.
We test the agile approach with some practical simulations.
POSSIBLE CONTENTS
Agreement on objectives
Setting up a cyclical collaboration process
Working with reviews of the outcome and the process
Roles in the team
Leadership as a distributed task