There is nothing more inspiring than seeing a hard-working team accomplish something great.
But what do these high-performing teams do differently from others besides outstanding commitment and the most significant possible focus on the quality of their work?
High-performing teams have one thing in particular firmly in place:
Authentic relationships
They share positive and negative emotions. They are cooperative and work hard but take time to gossip and share, even about non-work matters.
Therefore, creating a high-performance work environment requires more than hiring the right people or building a solid culture and using the right tools.
Above all, it also requires creating opportunities for genuine, authentic relationships to develop based on trust and appreciation:
World champion in communication
High-performing teams communicate frequently and openly. They trust each other.
Team relationship builder
High-performing teams don't just communicate – they build relationships in a culture of trust and an environment where ideas can be discussed unfiltered. The best teams value each other, even if it sometimes leads to passionate debates.
Meeting culture designer
High-performing teams meet with a purpose and consider it a sign of respect to prepare meetings carefully and moderate them in a structured way. They have the right tools for the respective tasks and can also use them efficiently. They are not afraid to ask for external support.
A team becomes unbeatable when people work together in a professional environment based on openness and genuine, authentic relationships.
The role of the leader
From the leader's perspective or management, it is therefore vital to create a framework or culture in which people can relate well vertically (i.e. across hierarchical levels) and horizontally (to each other). There are many concepts, methods, procedures, etc., on how this can best be achieved.
One essential factor is – TRUST.
Trust is a fundamental value. Trust means confidence. Only where there is trust among the people in an organisation is a passionate, sometimes controversial exchange of opinions constructively possible without shying away from conflict. Where there is no culture of trust and thus no constructive way of dealing with disputes, there is also a lack of commitment and acceptance of responsibility.
According to Patrick Lencioni (The 5 Dysfunctions of a Team), building and maintaining a culture of trust is the foundation for outstanding teamwork.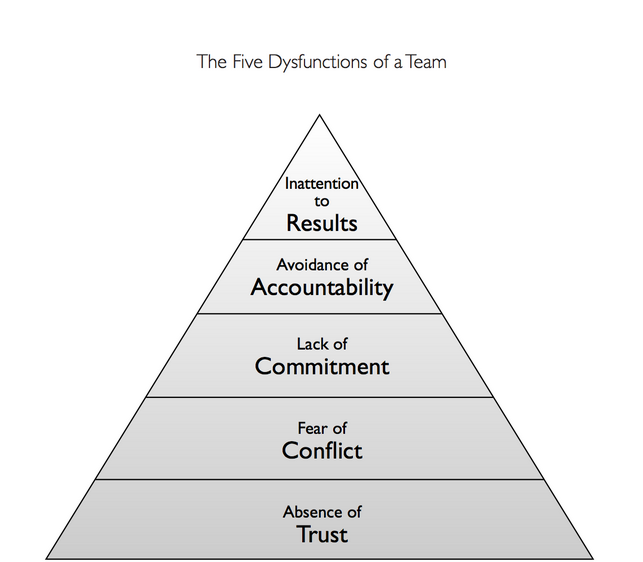 Fig.: Patrick Lencioni (The five dysfunctions of a team)
Working on trust is therefore essential, but neither at the individual nor at the organisational level is it purely a technique. If managers want to positively influence the culture of confidence in their immediate environment, they must also actively trust themselves. This requires advanced performance by offering trust, proactively providing it and establishing it repeatedly, even in the face of critical expectations and experiences.
In an environment where employees trust each other and the management team, top performance is possible, and teams become unbeatable.