Being able to react quickly and flexibly to unpredictable events is one of the significant challenges for companies in the currently prevailing corporate world.
Objectives & Key Results (OKR) creates a framework for agile strategy development that supports companies in formulating their goals and successfully implementing them despite the daily hustle and bustle. With effective and clear communication, transparency, employee engagement, visionary thinking, and focus on implementing the most important strategic goals of the company, sustainable company growth is created.
Patrick Lobacher and Christian Jacob describe in their book "The Agile Operating System" one of the most critical leadership tools of the modern management world, which combines top-down leadership with bottom-up engagement.
The two authors convey their extensive knowledge about Objectives & Key Results (OKR) with a certain lightness and at the same time with a lot of depth and detailed knowledge from their many years of practice. Football anecdotes complement the theoretical content and make for entertaining reading.
The book starts with an introduction to agility, the agile manifesto, and agile values and methods. Based on Gerhard Wohland's colour code, they clearly explain the evolution of management from the blue, complicated world to the red, complex world and why the management tools of the complicated world no longer work in these complex situations. They show the importance of vision and purpose and the guiding elements that set the direction for effective OKR. The chapter "OKR in 15 minutes" follows a short introduction to OKR for those who want to get a good first overview of the topic quickly.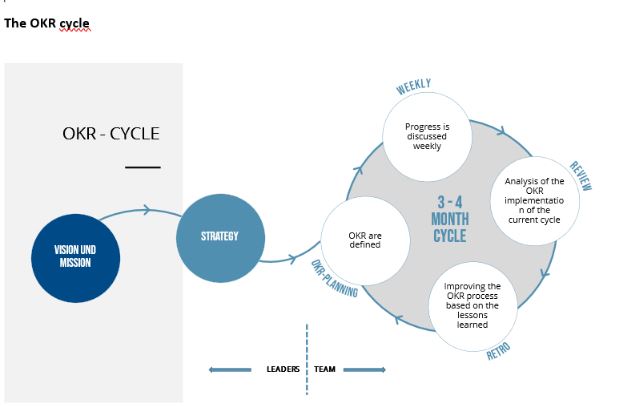 Fig.: © Coverdale
The main section unfolds the so-called Objectives & Key Results framework. Here it goes into detail. The OKR process is explained in detail, and the individual process elements are described practically. Decisive factors here are, e.g. :
the separation of responsibilities between management and staff,
the alignment of goals with the vision and purpose,
the clearly defined and delimited process steps, e.g., horizontal alignment in the planning process to avoid duplication of work,
the pull principle in the distribution of tasks,…
According to Luhmann, the authors then deal in detail with the topics of the OKR masters, intrinsic motivation, corporate culture, and systems theory.
Finally, they clear up the biggest fake news on the subject.
This book covers all aspects of OKR comprehensively and practically.
The book has a coherent structure and provides an excellent technical overview. It is a beautiful reference for OKR masters and users.
Examples from different situations in agile organisations provide valuable starting points for practical implementation. Both "newcomers" to the topic of OKR and agility and "old hands" who have already delved deeply into the implementation process are sure to find something in this book. It is inspiring, entertaining, and highly recommended!
Mag.ª Waltraud Ferz-Steinbauer has read and reviewed this book for you.