In today's work context, both as an employee and as a manager, you are increasingly coming up against organizational limits. Cooperation becomes difficult because many people want to "have their say" and the interests of many sides must be taken into account.
The classical structures, which only a few years ago were functioning well, are continually coming up against limits that make cooperation more difficult and at the same time "clutter" the organisation with administrative steps. The actual work suffers – both in terms of effectiveness and efficiency.
This is usually precisely the point at which managers begin to deal with agility.
What does agility mean?
When you start looking for definitions, you will quickly realize: none applies to all cases.
At Coverdale, we understand agility to mean being flexible, agile and adaptable.
To achieve this, agility builds on values such as openness, learning, self-responsibility, focus, courage/encouragement, diversity and agile principles, which were first published in the "Agile Manifesto" in 2001.
Following these values and principles, concrete methods for the organization of teams and companies have been developed, such as Scrum, OKR, Kanban or practices and behavioural rituals, such as a "Standup-Meeting" or retrospectives. Both practices and methods are apparent and understandable.
Many organizations start the topic of agility by beginning to experiment with agile methods – often it is SCRUM or KANBAN – in a delimited area. Depending on the degree of self-organization ability in the team, this works with more or less success. If it doesn't work at first go, managers tend to discard the tool quite quickly and, as rescuers in distress, use Micromanagemet to guide the team through the crisis. Managers who themselves once came out of expert status are particularly susceptible to this type of behaviour.
These attempts to become agile(er) are usually over after a few months, and what remains is quite a lot of frustration, and even more considerable coordination effort than before, and employees calling for leadership at the task level. Self-responsibility is usually quickly at its lowest level, and the manager who has stepped in as a helper in an emergency – perhaps in a well-meaning way at this point – can hardly resist the effort of coordination.
Whoever wants to avoid such a situation starts a transformation process towards more legalisation at the other end of the famous "fish". I am talking about the head, and I mean the managers themselves.
We recommend to work on your attitude and to make your personality fit to bring your teams to step by step into self-organisation.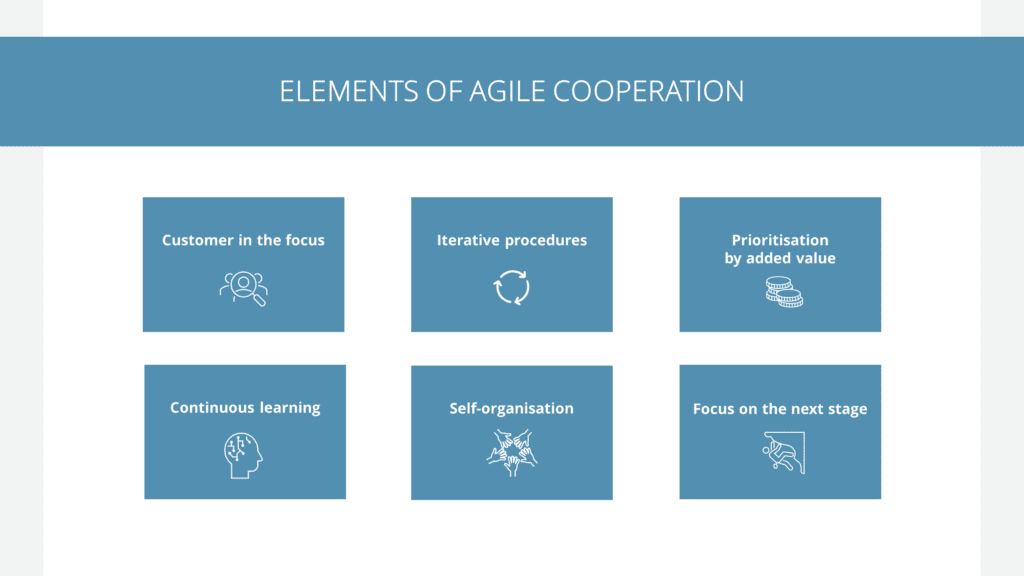 What does it take?
Working with review loops that focus on the quality of the outcome AND the quality of the collaboration process, with a clear desire to improve
To be ready, to learn permanently, to discard the old and try out new
To have the customer in focus
to make decisions that focus on the added value for the customer
Reduce planning times so that the focus is on the next stage, and the rest of the project is only roughly planned.
The next step is now to enable the team to increase its self-organisation skills. The "Toyota Way" was also not invented by a manager, but has been developed over hundreds of review loops. None of the teams there became a high-performance team by "announcement", but by building up competencies, led by leaders who successively adapted their leadership until the crews arrived in the high-performance mode in a self-organized manner.
To proclaim "self-organisation" as a manager and hope that it works will remain an empty hope. There is a lot of work behind this team development.
In the beginning, one usually does not know in which structure this development will take place and how the team will be positioned at the end of the process. This arises during the journey and, in our opinion, can only be created by the group itself.
Whether a team wants to work with SCRUM or KANBAN and whether this is the right way for the organisation depends on many factors. For most groups, it is already an improvement when they start to introduce iterative processes and work with review loops.
We do not think much of "prescribing" an agile method to an organization and introducing it top down. We focus on developing the self-organization competence of teams, who can then determine, based on their needs, which method best supports them in achieving their job – one could also say "the purpose of the team" in the best possible way.
One should always bear in mind that teams in organisations rarely function as "stand-alone", but are strongly characterised by dependencies, which should be considered at least as much as the chosen method itself in the organisational development towards an improved structure.
We offer managers the opportunity to take part in a two-day orientation training on "Agility in the Nutshell" to get a first impression of how agile working works and then try out the most common methods on the market. These training also take place within the framework of our summer academy.
Dates for this will follow shortly.
Interesting for you? Please send us a short e-mail with the subject "agility in the nutshell", and we will inform you as soon as the dates are fixed.