In this short work, the author describes an agile transformation project in a company with a structured and comprehensible structure.
The book by Klaus Leopold "Rethinking Agility. Why agile teams have nothing to do with business agility", is published by Klaus Leopold and has 136 pages.

In his case study, Klaus Leopold shows what agility in the company is all about. He describes this in a condensed form, reduced to a few pages, loosened up with modern illustrations, which underpin the content aspects even further. He also shares essential insights from his many years of experience, which he presents in this book in a very realistic and understandable way.

"The introduction of agile methods is a means for more business agility – it is not the end in itself".

Klaus Leopold introduces the term "business agility". By this, he understands the agilisation of the entire organisation and clearly distinguishes between reducing agility to an agile method, such as Kanban or Scrum.

The content is presented in four structured parts: Problem, causes, solutions and result.

As a problem, he shows why the introduction of agile methods like Kanban or Scrum did not achieve the desired effect, namely a faster time-to-market result.

As the leading cause, he names the dependencies between the different teams, with the lack of integration of upstream and downstream processes. When introducing agility, the focus is usually on optimizing the individual development teams. Team-wide coordination is missing – at least to the extent that it would be necessary.

"If the target state is agile, the path to it should already be agile."

In his approach, Leopold speaks of so-called "flight levels", three organizational levels that are responsible for results:
the operational level, with the execution of daily work at the team level,
the coordinative level with the focus on dependencies and the interaction between different teams and
the top management, which concentrates on the strategic orientation.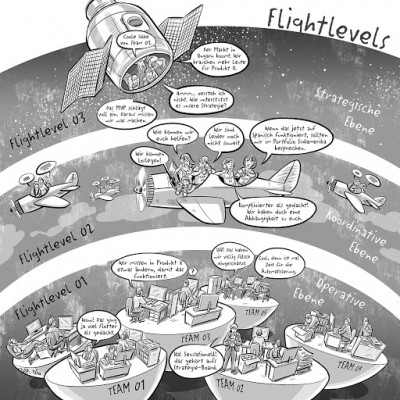 Source: www.LEANability.com

Furthermore, he describes a procedure with different elements, which makes the process easy and understandable on all levels and makes it manageable and tunable.

I recommend this book especially to managers who deal with the agile orientation of their organization, who are already in an agile transformation or who have already introduced agile teams in their organization and want to develop them further.

It is also wonderfully suitable for employees as preparation for an agile transformation process because the direct practical relevance of this book provides valuable insights and findings of the author and makes an agile process understandable even for those people who have not yet dealt with this topic in detail.

Mag. a Waltraud Ferz-Steinbauer has read and discussed This book for you.